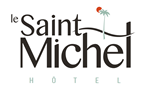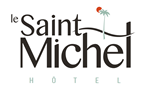 The Saint-Michel is not only a two-star accommodation, it is also a prestigious restaurant that welcomes the hotel's residents but also the external clientele.
Our restaurant is open 7 days a week.
Breakfast is served from 06:00 to 09:30 on weekdays and from 08:00 to 10:00 on Saturdays, Sundays and public holidays. It is a buffet on which you will find enough energy for the day: bread, pastries, jams, butter, spread, pound or cakes, cereals, eggs, fresh seasonal fruit, fruit juice and hot drinks (coffee / tea / chocolate).
Breakfast trays can be served on request, in case of early departure (before the opening of the buffet).
For the meridian break (12h00-13h30), the restaurant offers its suggestion of the day: a market menu inspired by seasonal products to enjoy by the pool.
In weekdays, the formula "Enter + Flat" or "Plat + Dessert "is 22 euros. The formula "Starter + Main Course + Dessert" is 28 euros. The days of weekend end you will be seduced by our map!
For dinner, another atmosphere is created. The veranda, the deck and the pool put on their clothes of lights for an intimate moment for two, with family or friends. Our chef offers his menu developed in line with the kitchens of the world. On your plates, dishes both noble and inventive. Our team welcomes you from 19:30 and takes your orders until 21:30.
Residents of the hotel are also offered a "half-board" menu (starter, main course, dessert) for the sum of 28 euros per person.

Do you have a special diet? The Saint Michel can offer you special meals, on request: vegetarian, gluten-free, allergen-free ...